YEAH! it's Summer! For me that means cook out's! All around my neighborhood you can smell the delicious smoke of BBQ's and smokers grilling their way to dinner perfection.
I grew up grilling and whether you consider yourself a griller or BBQ'r (yes there is a difference)  I think we can all agree if it's cooked outside it's better!
ok confession time…….. I am a pretty good baker, a decent cook, a seasoned canner, and a horrible griller! I am not sure if it is my impatient nature or my constant need to multi task which you cannot do while tending meat on a grill. What ever it is I have burnt everything from fish to the side of my house trying to master this backyard fair.
So I decided to bow out gracefully and just provide you with some links for your summer outdoor cooking!
Enjoy!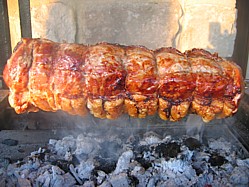 allrecipes.com/Recipes/BBQ–Grilling/Main.aspx ·
www.bbqrecipesecrets.com
0